CHAIRMAN'S DESK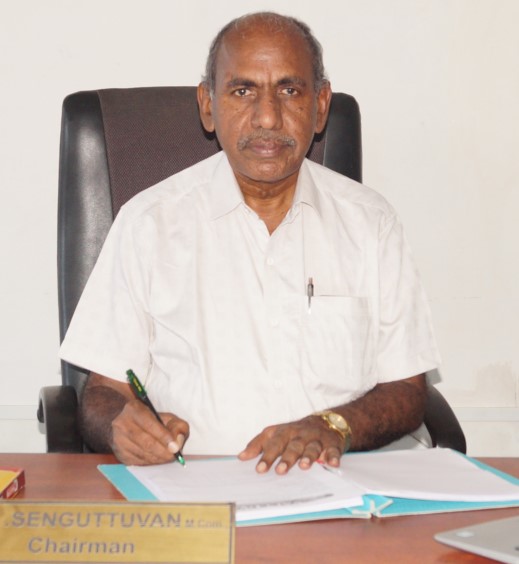 Thiru. K. SENGUTTUVAN, M. Com.,
Valluvar College of Science and Management
Learning is the excellence of wealth that none destroy;
To man nought else affords reality of joy..
said the eminent Tamil poet and philosopher Thiruvalluvar. Among all the richness learning is imperishable that cannot be destroyed by anything in this universe. VCSM is constantly striving to fill the young minds with this eternal richness, because once the mind is enlightened that cannot be darken again.
Being a business man for more than a decade I observed that the economy of Karur District should be uplifted. And also I perceived that shortfall of quality education to the young generation was the main reason behind.That's the point where I made up my mind to start an Institution that offers quality education. An American poet Robert Frost says,
Two roads diverged in a wood, and I—
I took the one less traveled by,
And that has made all the difference.
Once I had two options before me, an arts institution or an engineering college, I opted for arts and management courses, which are a gateway for students from rural communities and provide multiple job opportunities through excellence in education. Additionally, it is affordable for people from all walks of life who want to quench their intellectual thirst. And that has made the difference - the transition from a businessman to an educator.
It is not wrong when a man is born poor but it is his sole mistake if he dies poor.Envisioning to bridge the gap between the mainstream and the marginalized sections of our society, we bestow a quality and interdisciplinary education that meets the needs of the competitive world.
VCSM aims to foster initiatives to promote the spirit of civic responsibility in students. We accord prime importance to the behavioral discipline, moral integrity and cognitive developments of our students. Our pedagogy encourages both the student body and the teaching staff to collaborate as equal partners in order to achieve a certain objective, which in turn helps to map out the desired results.If you strive for greatness, you will undoubtedly achieve your goals.
I wish you all a great success!!!.